6

Ethics and Research Approval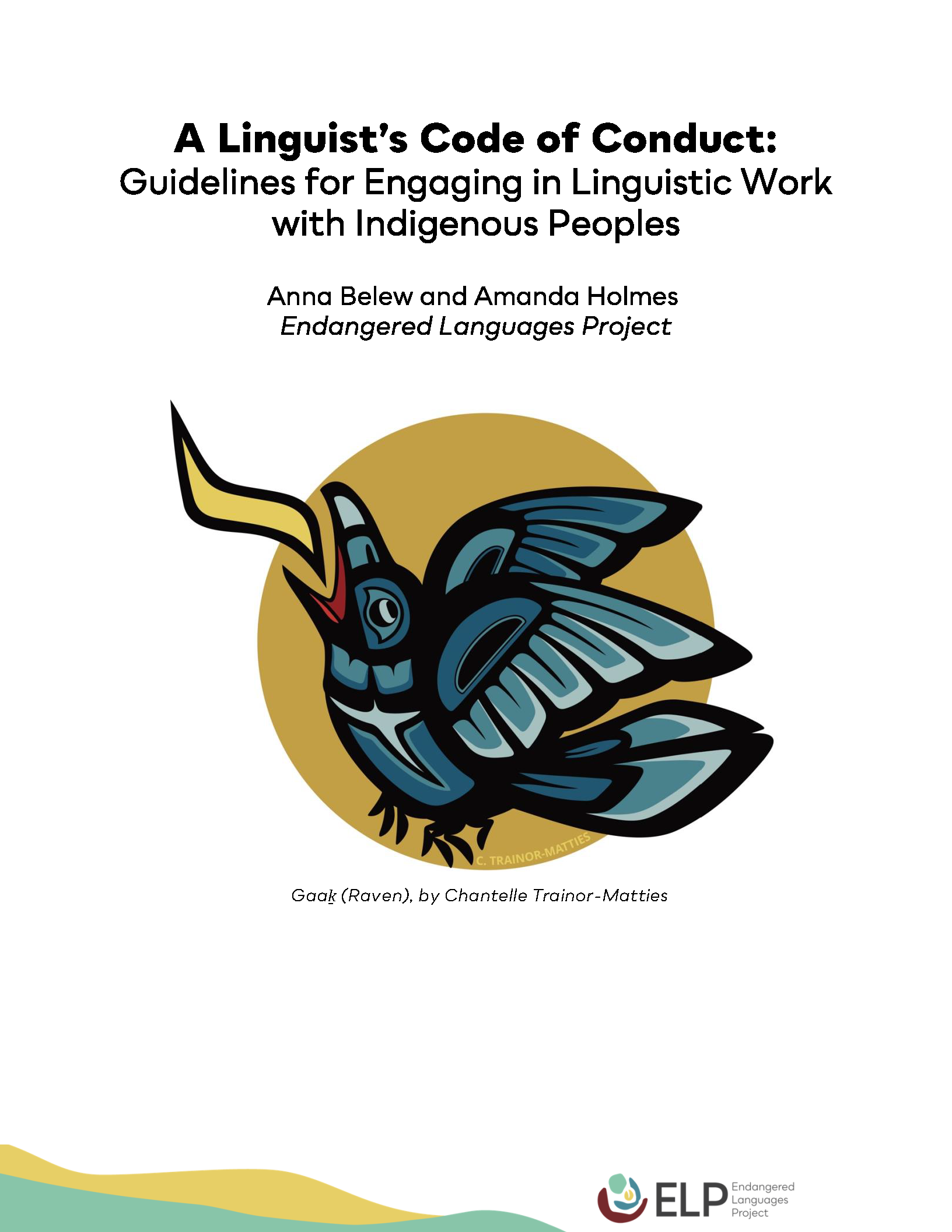 Members of the Department of Lingusitics are expected to conduct research in an ethically engaged manner which respects the rights of speakers and speaker communities. There are many useful resources for learning more about ethical language work, but one good place to start is the Linguist's Code of Conduct, a set of guidelines and recommendations developed on behalf of the First Peoples' Cultural Council. See the bibliography there for additional sources.
In addition, all research involving human subjects—including much linguistics research—requires approval from the university Institutional Review Board. Though designed to protect research participants and ensure ethical research practices, the IRB approval process can feel onerous and opaque to the uninitiated. Much of the process was originally motivated by the need to protect participants in biomedical research and can thus seem awkward when applied to linguistic research, particularly field work. For example, the emphasis on maintaining anonymity may be antithetical to best practices in language documentation and the moral obligation to give appropriate acknowledgement to speakers. Some of these larger issues are discussed in by Bowern (2010). The guidelines below are intended to help guide your through the process.
There are three types of review processes:
Exempt
Expedited
Full Board Review
Most linguistics research falls into either the Exempt or Expedited review categories. It is important to understand that in this context exempt does not mean exempt from review but rather exempt from review by the full board. Exempt and expedited applications still go through a review process, but the process is more streamlined and typically much faster. Generally, the exempt category is for research using anonymized data, while the expedited category is for research which includes identifying information (e.g., video recordings or transcripts attributed to a particular speaker). This flowchart may be helpful in determining the appropriate review category.
IRB applications can submitted using UH eProtocol.
Sample copies of approved IRB protocols are available from the department office. Consult the list of recent dissertations to identify relevant research topics.
6.2

Ethics Training

Approval of an IRB application requires that you also complete training in research ethics and compliance. This training is administered online through the CITI Program. In order to ensure that your CITI training courses are appropriately linked with UH, you need to register using an organizational affiliation, selecting University of Hawaii (SSO) from the dropdown list of organizations. (Do not register as an Independent Learner.)

The courses required for your application will depend on the review category. However, the non-exempt courses can be used to fulfill the requirement for exempt applications, but not the other way around. Thus, it is recommended that you complete the non-exempt courses to avoid having to complete additional training later. The relevant courses are:
Non-Exempt Social & Behavioral Sciences Researchers and Key Personnel
Non-Exempt Social & Behavioral Sciences Researchers and Key Personnel IPS
If these courses don't show up when you log in, you can add them by choosing Add a Course, then Human Subjects Research.
The training involves a series of readings and videos followed by set of quiz questions for each module. It's not difficult, but it can be time-consuming. So don't wait until the last minute to complete your CITI training. The training is independent of your particular research project and so can (and should!) be completed in advance of your IRB application. Once completed, your training is valid for one year. Your completion certificate should link automatically to your eProtocol account; however, it is good practice to download the training completion certificate from CITI, in case you later need to upload that to your IRB application.